2016 Newsletter
Featured Articles
---
Join Us for the First Liberal Studies Reunion Oct. 21
Come and meet other Liberal Studies alumni and current faculty, learn what's happening in the program today, and share ideas for future alumni activities, such as a lecture series or summer workshops on campus.
Video: Active Learning Leads to New Career Path
Senior liberal studies major Taylor Champlin knew she wanted to teach, but she wasn't sure what. See how she found her direction from a new way of learning math.
Professional Development Starts Early
When primary school educators came to Cal Poly for a professional development workshop this summer, liberal studies major Megan McBrien jumped at the chance to get involved as both teacher and student.
---
More News
Letter from the Chair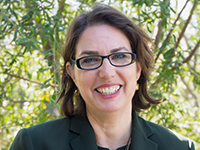 A growing number of graduates to help relieve the teacher shortage, teacher candidates as researchers, a new study abroad program — Lola Berber-Jimenez looks at the past year and the one to come.
Thank You to Our Generous Donors
Thank you to all the alumni, parents, friends and organizations that donated to the Liberal Studies Department. Private support helps provide exceptional Learn by Doing opportunities for today's students.
Alumna Launches Bilingual Program, Named Teacher of the Year
A Liberal Studies graduate who helped launch a bilingual program at a Sunnyvale, Calif. elementary school was recently named the district's Teacher of the Year.
Read more about Colleen Espinoza ›
Why Field Trips? A Trip to the Broad
In April, students in the Liberal Studies Department's Visual Arts for the Elementary Classroom course spent the day exploring two of Los Angeles's most renowned art museums: the Broad and the Los Angeles County Museum of Art.
Read more about the museum trips ›
NASA Research Internship Yields Real-World Experience at Home and Abroad
A STEM Teacher and Researcher Program internship took liberal studies student Zoë Sharp to NASA and beyond. Read about her STEM summer in her own words.
Read more about Sharp's NASA experience ›
Related Content